"The name of the Lord is a fortified tower; the righteous run to it and are safe." (Proverb 18:10)
"The same ocean that brings a Tsunami can sail a ship on calm waters."
— Felton D. Woods
Have you known the feeling of hopelessness? If so, how did it affect your relationship with GOD? Did you consult GOD in prayer through our mediator, Jesus the Christ? Did you read the scriptures to release the emotional stronghold?
In Psalm 144:2 it reads "He is my loving GOD and my fortress, my stronghold and my deliver, my shield, in whom I take refuge, who subdues peoples under me."
I knew the feeling of hopelessness all too well. After converting to Christianity and developing a genuine relationship with our Lord and Savior, GOD began to move in my life. He moved toxic people which cleared paths to connect with my village of Titus 2 spiritual mothers in Alabama, and in Florida. The guidance, knowledge, history, love and wisdom I get from these ladies are priceless.
Several months ago, another Titus 2 spiritual woman called while at Dialysis. Despite everything happening in her life she used her strength to call me. During our conversation, we talked about the waves of life can make us feel as though we are drowning. She made it clear, as a woman of Faith, GOD keeps His children afloat.
"We are hard pressed on every side, but not crushed; perplexed, but not in despair." Paul suffered many hardships but was not despair. Why? His hope was not based on earthly circumstances. He held on to the knowledge that God was ultimately in control of it all. (II Corinthians 4:8-10)
We cannot have despair and faith simultaneously. But we can talk to ourselves when tempted to despair reading Psalm 43:4: "Why, my soul, are you downcast? Why so disturbed within me? Put your hope in God, for I will yet praise Him, my Savior and my GOD."
In Psalm 46:1-5 we know that GOD is our refuge, fortress and strength, an ever-present help in trouble. Therefore, we will not fear, though the earth gives way, and the mountains fall into the heart of the sea thought its waters roar and foam and the mountains quake with their surging. 'There is a river whose streams make glad the city of GOD, the holy place where the Most-High dwells. GOD is within her; she will not fall; GOD will help her at break of day.
STUDY SCRIPTURES
It might though GOD is silent, but He is NOT still. Philippians 1:23–24; Philippians 4:12–13; Philippians 4:19-20; 2 Corinthians 4:17-18; James 4:14-15; 1 Corinthians 13:13; Psalm 50:15; Matthew 10:28; Matthew 26:38–39; and Luke 22:42–43
Why You Need Others in Tough Times (Author Unknown)
"Because you are praying for me and the Spirit of Jesus Christ is helping me, I know this trouble will bring my freedom." (Philippians 1:19)
When you experience a setback, your natural response may be to withdraw, to build a wall around yourself, and to push people away. There is a better way. When setbacks weaken your Faith, allow other people to trust GOD for you. You need a church family to help support you, pray for you, and encourage you. Paul was strengthened by the Holy Spirit and by the prayers of others. You need to be connected if you want people to pray for you!
When you're in the midst of troubles, redirect your attention away from bitterness. Join with others who can encourage you to trust in GOD and help you praise Him for what He has done in your life. Where do you find that kind of support? You can find it by joining others for worship at a local church. Worshiping GOD with other people will give you a new and needed perspective on your setbacks. You can also get involved in a small group Bible study.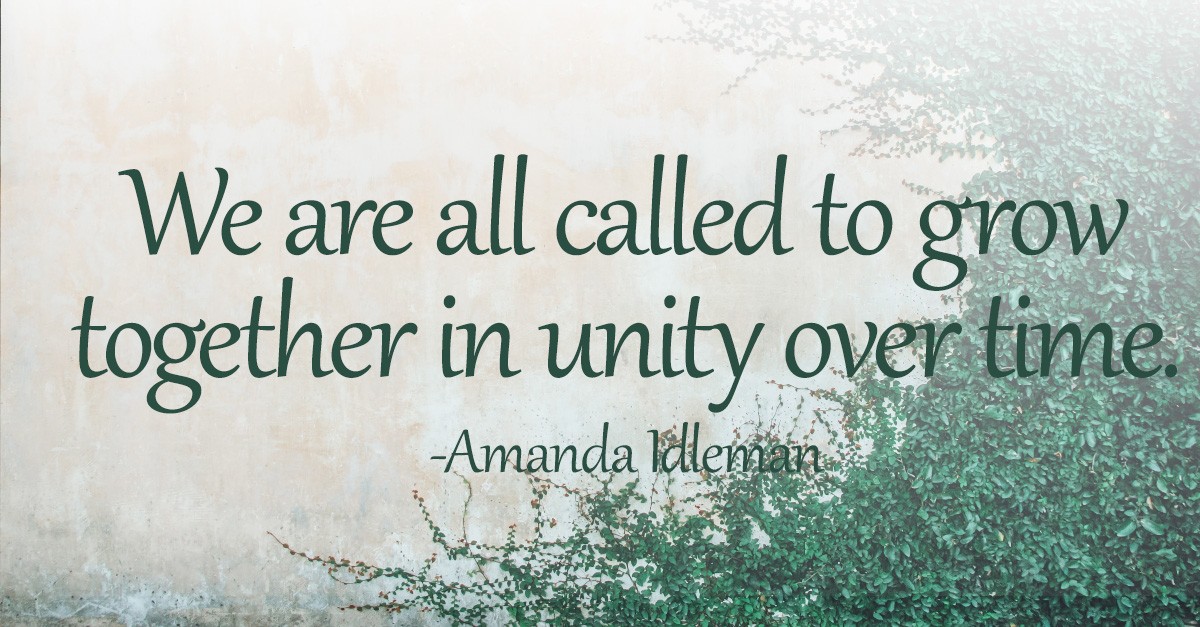 Most churches are too big for you to build relationships by only attending worship services. You need a group of about a dozen people, where you not only study the Bible, but also share your struggles [keep your circle small] and pray for each other. You won't find a comeback on your own. You need GOD's people to build you up and help you keep your focus on GOD.
You won't find a comeback on your own. You need GOD's people to build you up and help you keep your focus on GOD.