"We have this hope as an anchor for the soul, firm and secure. It enters the inner sanctuary behind the curtain." (Hebrews 6:19)
I was afforded the opportunity today to be the keynote speaker at the first virtual Ladies Day Program hosted by Holt Street Church of Christ in Montgomery, Alabama.
When my Spiritual Mother Sister Carr gave me the topic and scripture, I smiled while thinking this is great considering how God has anchored me since my 2009 on-the-job accident.
For sailors and ships, an anchor provides stability and protection keeping ships from being tossed around at sea during harsh storms. For Christians, God is our anchor providing stability, steadfastness and calmness during our storms including storms that could potentially toss and turn us by every wind of doctrine.
There are times we must ask ourselves tough questions to answer honestly. Are we allowing our circumstances to make excuses to be silent Christians during the pandemic? Are we taking advantage of numerous technological avenues to continue spreading God's word through virtual evangelism? Is it difficult to trust God during these difficult times?
Proverbs 3:5-8 reads "Trust in the LORD with all thine heart; and lean not unto thine own understanding. In all thy ways acknowledge Him, and He shall direct thy paths. Be not wise in thine own eyes: fear the LORD, and depart from evil. It shall be health to thy navel, and marrow to thy bones."
God is my Anchor and I will not be robbed of His word. "If any man teach otherwise and does not agree to the sound instruction of our Lord Jesus Christ and to godly teaching, they are conceited and understand nothing" (1 Timothy 6:3-21).
Do we put God on a shelf to be pulled down when storms of life are stack against us? Second Peter 1:3 states "His divine power hath given unto us all things that pertain unto life and godliness, through the knowledge of Him that hath called us to glory and virtue." Do you believe this?
Do our actions show that we honestly and wholeheartedly believe this? If so, why do we worry? Why do we doubt God during our storms? Why do we allow our emotions and people to control our minds? Why is it difficult to allow the word of God to genuinely transform our minds to a new life in Christ?
What about our long to do list? Are our minds tossed and turned wondering how to categorize the list? As we mature in knowledge and wisdom, we should understand that GOD, our anchor, should always be number one.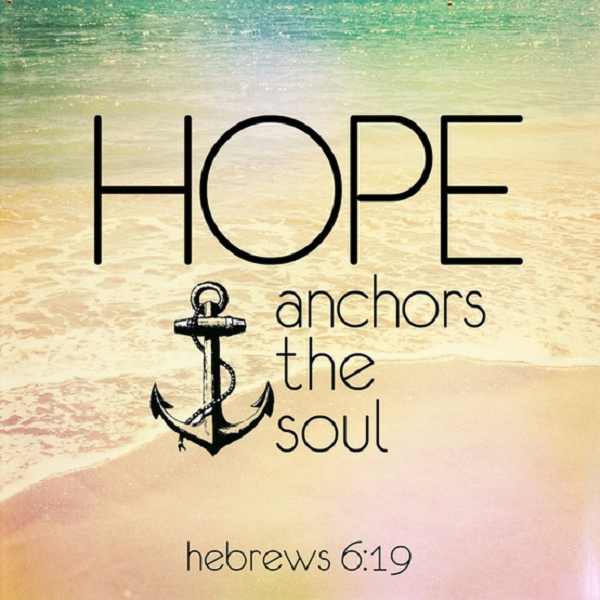 This has not always been easy for me, but by God's grace He allowed me to master a high tolerance pain level to live with chronic pain. This keeps my mind on Him and not on my circumstances.
When my entire body was traumatized in a 2009 on the job accident, I sustained numerous injuries and was subjected to approximately thirteen surgeries. I am now being scheduled for cervical surgery on my neck and was told this week a repeat of my 2015 Lumbar 4-5 back surgery is needed.
However, I declined and thanked God for allowing the surgeons for their part in caring for the temple of the Holy Spirit. From this day forward, I fully accept my Anchor's promise to sustain me through my life's storms so eloquently stated by Apostle Paul in 2 Corinthians 12:9-10.
Are we displaying the love of our Anchor by reaching out to the forgotten saints who are homebound and to those who are withstanding storms alone?
All it takes sometimes to uplift someone's spirit is a text, a phone call, our prayers or a handwritten letter of encouragement. Speaking of handwritten letters, I received a beautiful encouraging handwritten card/letter from one of my spiritual mothers in Alabama, Sister Chenita M.
Her words encouraged me out of disappointment after hearing another back surgery was needed. I cannot express enough the love I have for the Titus 2 women in my life.
I sometimes wake up to encouraging text messages from Sister Pauline H., another Titus 2 women God allowed our paths to meet when I became a member of the Benevolent Sisters.
FINAL THOUGHTS
When storms flood our lives with fear, worry, doubt, etc., I encourage you to find stability in the genuine love of God and His promises. He does not want His children to be set adrift but to be fixed in a secure place and grounded in the word during the difficult, uncertain and often painful times.
ACKNOWLEDGEMENT
I would like to thank the elders for allowing me to speak at the sisters' first virtual ladies day program. The program committee did an awesome job putting together a wonderful day.
Thank you Rosalyn Butler, Rosie Shingles, Thelma Powell, Idong Ruffin, Linda Vandiver, Essie Carr, and Danita Powell., who also coordinated Felton and my wedding many years ago.