The LORD is my light and my salvation; whom [or what] shall I fear? The LORD is the strength [the Parachute] of my life; of whom shall I be afraid? When the wicked, even mine enemies and my foes, came upon me to eat up my flesh, they stumbled and fell. Though a host should encamp against me, my heart shall not fear: though war should rise against me in this will I be confident (Psalm 27:1-3).
Psalms Chapter 27 and Chapter 121 are excellent chapters to read when feeling afraid, or worried. As Christians, we are not immune from the troubles of this world, or from experiencing our own personal, spiritual, or secular challenges. In times of troubles these chapters remind us that GOD will conceal His children under the cover of [His Parachute].
This blog was inspired from a sermon preached by my husband, Felton; and a recent devotion from my Spiritual Mother Sister Copeland. Felton's sermon was titled "Who Packed Your Parachute?" Sister Copeland's devotion is titled "My Parachute."
SISTER COPELAND'S DEVOTION
GOD who takes fear, would you please take mine—again. I say I trust you with my life, and then the moment things get a little scary, I try to take it back from you. When I most need to surrender is when my hands are clenched the tightest. Help me to open them, to rest in your waiting arms. You are my parachute, Lord, yet I find I am too afraid to pull the cord. Forgive me for my lack of faith and prove to me—again—how silly I am, enduring this free fall when you are right beside me, waiting for me to let go, so you can carry me safely home. When I am afraid, I will put my trust in You (Psalm 56:3). END OF DEVOTION
It is sometimes difficult to not see some people and some situations as giants and not be afraid. In Genesis 6:4-7 our Father tells us how He previously took care of evil giants. "There were giants in the earth in those days and He saw that the wickedness of man was great in the earth, and that every imagination of the thoughts of his heart was only evil continually so much that He grieved having created mankind. So, GOD destroyed the world–all but Noah and his immediate family.
A mind is like a parachute. It doesn't work if it is not opened. –Frank Zappa
Are you familiar with Charles Plumb? He was a U.S. Navy jet pilot in Vietnam. After 75 combat missions his plane was destroyed by a surface-to-air missile. Plumb ejected and parachuted into enemy hands. He was captured and spent six years in a communist Vietnamese prison. He survived the ordeal and now speaks on the lessons learned from that experience.
One day, when Plumb and his wife were sitting in a restaurant, a man at another table came up and said, "You're Plumb! You flew jet fighters in Vietnam from the aircraft carrier Kitty Hawk. "You were shot down!"
"How in the world did you know that?" asked Plumb.
"I packed your parachute," the man replied.
Plumb gasped in surprise and gratitude. The man pumped his hand and said, "I guess it worked!"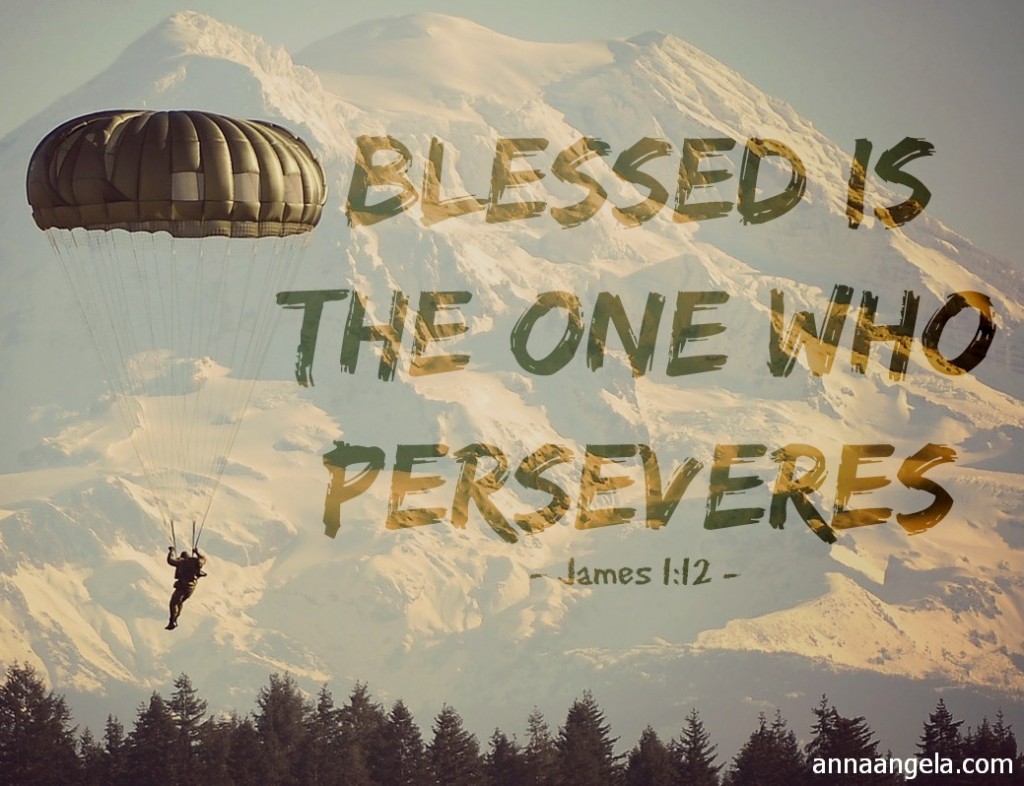 On our journey call life we perhaps miss what is really important when it comes to showing kindness. We may fail to say hello, or please, or thank you, or congratulate someone on something wonderful that has happened to them, or give a compliment, or just do something nice without expecting anything in return.
On this earthly battlefield kindness can go a long way when we are tried and tested to the very core of our souls. "'Where can we go? Our brothers have made our hearts melt in fear. They say, 'The people are stronger and taller than we are; the cities are large with walls up to the sky. We even saw the Anakites there.'" (Deuteronomy 1:28)
Where can we go? As Christian paratroopers, we could go to Heaven if we remain under the parachute [covenant] of GOD.
When adversaries come upon you I recommend reading the entire chapter of I Samuel 17. Verse 11 reads "When Saul and all Israel heard those words of the Philistine, they were dismayed, and greatly afraid."
Fear is one of the realities of living in enemy territory because the devil prowls around devouring the weakest among us to do his bidding. We are told in Hosea 4:6 that GOD's children perish due to lack of [biblical] knowledge [in Satan's prey ground].
"Woe to the inhabiters of the earth and of the sea for the the devil is come down unto you, having great wrath, because he knoweth that he hast but a short time." We are at risk daily of losing the salvation of our soul when fooling around with the devil. (Revelation 12:12)
Are we putting more fear in the opposition than faith and trust in GOD? "And fear not them which kill the body, but are not able to kill the soul; but rather fear him which is able to destroy both the soul and the body in Hell." (Matthew 10:28)
I wish not to spend eternal damnation with the devil and his evil puppets, and I am sure neither do you. (Matthew 25:41)
"It is not profitable to serve GOD with lips and Satan in actions." — Tangie T. Woods
FINAL THOUGHT
Sin is divisive, destructive, deceptive and deadly. On the Judgment Day GOD will again take care of the evil giants roaming the earth today. Be mindful that Satan's fate is sealed, do not become his prey for eternal damnation.
Who Packs Your Parachute?
BLOG SOURCES
Psalm 121:1-8 and Psalm 27:1-14
http://www.agiftofinspiration.com.au/stories/attitude/parachute.shtml#:~:text=I%20packed%20your%20parachute%21%20Charles%20Plumb%20was%20a,missile.%20Plumb%20ejected%20and%20parachuted%20into%20enemy%20hands.